I've got a bike
you can ride it if you like.
It's got a basket, a bell that rings
And things to make it look good.
I'd give it to you if I could, but I borrowed it.
Actually, I bought it. And it doesn't have a basket, and all of the things to make it look good are on order from nashbar. But you can borrow it if you want, as long as you study up on how to not get hit by cars first.
My new (to me) Fuji Roubaix of indeterminable year was purchased from a listing in the Austin Chronicle. I'm still learning all of the basics of cycling and its terminology, with much help from Mike. The bike has a True Temper steel frame, Shimano 105 components, a carbon fork, and a Selle Italia saddle (which your people call a seat). These are supposedly good things.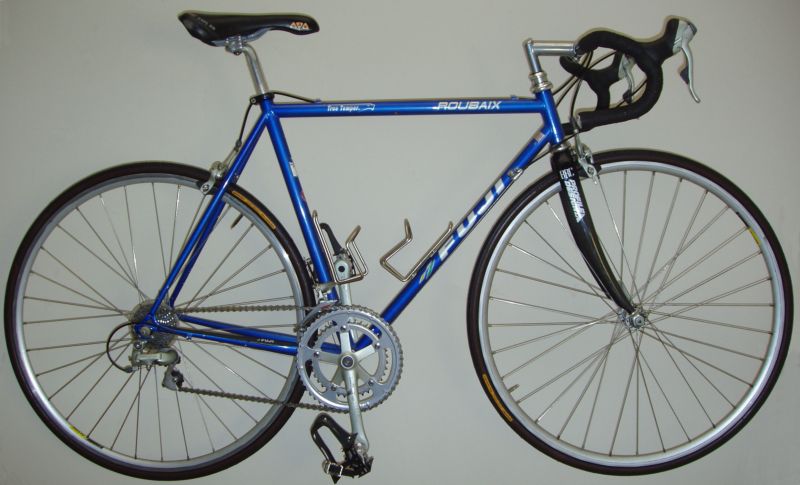 I have to say part of the inspiration for the purchase was the Tour de France, despite only watching about 10 minutes of coverage in the last three years combined. I've read Lance's book though, and I'd love to have a fraction of the drive he exhibits. (And yes, I know 1/1000000 is a fraction.)
I've also been wanting to get in better shape. I have my weight where it needs to be, but I get bored running and the terrain around here is perfect for cycling. I'm just glad I didn't decide to buy a new bike - given the amount of accessories, clothing, etc. I've decided to buy, I'd be doubly broke.
I had the bike tuned up at 360 CycleWorks, got some advice on future upgrades, and since then I've been trying to get out whenever I can. So far I've been on three rides.
The first was spent trying not to fall over. The brakes are in a completely different location than on my mountain bike, and the tires are about a third of the width. The second point was hammered home when I just about jarred myself off when intentionally running over a rock. Not the best idea on any bike, but it's a MTB habit I broke myself of very quickly.
I also had an education on gear ratios. My mountain bike has grip shifters, so I've never paid attention to what sprocket I'm on. 1-1 is really easy, 3-7 is as hard as it gets. I shifted the Fuji into the "big ring" up front and the largest in the back, and spent about a mile wondering how people rode these things for miles on end. It started making sense when I climbed a hill, "downshifted" (three times!), and felt pedaling getting more difficult.
My second ride was a little smoother. I'd purchased some cycling shorts and was all ready to hit the road. The bike wasn't - I have to start immediately up a hill when leaving my house, and I was in the wrong gear. I ended up getting off and pushing since there was too much resistance to shift and I'm too stubborn to roll back down and start over. I started experimenting with grip positions, and alternated between being really comfortable resting my hands on the hoods of the shifters and fearing they weren't designed to hold my weight, resulting in me snapping them off and going flying over the handlebars. After I got home, I was reminded of Donald's advice from 360 CycleWorks - that after a long ride using cages instead of clipped pedals, my feet would be numb. I had my doubts at the store, but he obviously knew what he was talking about.
The third excursion was pretty uneventful. I'm finally riding around obstacles instead of over them, my shifting has gotten much smoother, and I can ride up Convict Hill without running out of gas. Now I'm looking forward to getting a cycling computer so I can get a better feel for my speed and distance, and making my first trip out to the Veloway.
Of course, I discovered a flat on my rear tire today so I suppose I have some maintenance lessons in store before I go anywhere.