Real Ale Ride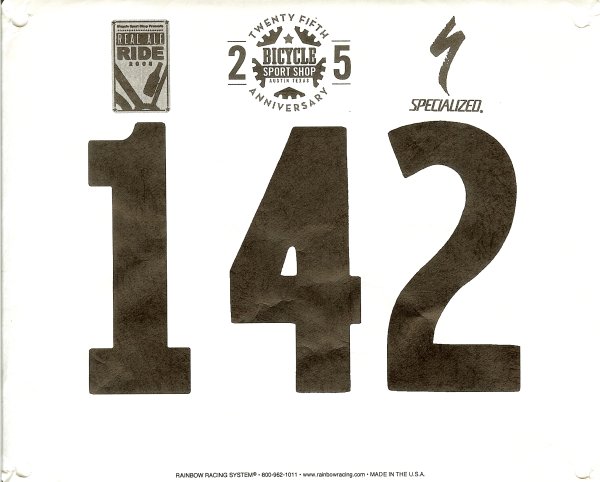 I've spent thirteen months feeling that the 2007
Real Ale
was the best ride I never did. Last year I signed up for the 80 mile route for the chance to ride through Luckenbach. The event was canceled at the start due to high winds, and I was left with only my pint glass, t-shirt, and memories of sampling various beers at 10am.
This year I registered for the 50, which was plenty ambitious given my huge dropoff in training due to Arielle's arrival. I expect things to pick back up once I can start towing her around in a trailer. I was able to squeeze in about 120 training miles this month, which was just enough to make me realize how much slower I've gotten. The adage "it doesn't get easier, you just go faster" is twice as true in the negative direction.
Given last year's parking mess, I made sure to arrive early and pulled into the brewery's driveway just after 7 a.m. I was immediately directed into a field a quarter of a mile away and spent the next 45 minutes gearing up and hunting for my phone.
As it turned out, the one person I tried texting to meet up with I never saw, and I ended up bumping into almost everyone else I knew along the route. The downside of this was bumping into them ten miles past the point where I was supposed to turn for the 50 mile course.
I'd done the 50 mile twice as part of the
Sweatin' Burnt Orange Bicycle Tour
, and thought parts of the road seemed different. I chalked it up to all hills looking the same when you're just trying not to crack. After seeing some surprised looks in Sisterdale, I learned that I was actually on the 65 mile course and my supposed 60% completion mark didn't even have me halfway.
I started feeling twinges in my quads around the 25 mile mark, but the break seemed to allow everything to stretch out and I continued on. A conversation with a rider training for the
Coeur d'Alene
helped a few miles fly by, but the long climb at mile 35 started to lock me up again. I debated whether to sag out at the next rest stop, but after suffering through two bottles of
pickle juice
, I decided it was worth trying to get my mileage in.
I paired up with another rider who was stretching his legs following a cross-country move from Pennsylvania. The heat was hitting him as bad as my limited training was affecting me. We made it another ten miles, at which point we called in the sag wagon and drove into town.
It's hard for me to accept not finishing the ride, even though it would have been 30% farther than my targeted (and completed) distance. I've convinced myself that I could have struggled into town, despite the headwind and worsening cramps. The time and energy it would have required would have put me back in Austin way too late to ever convince Mary Alice to let me ride again, so it's best that I trucked into the finish.
I finished with an
thousand more feet of climbing
than I would have done on the
official route
, so I'm taking some comfort in that. And the beer at the finish was delicious. I'll have to wait until 2009 for the BBQ - the line was too long. I settled for a Snickers Blizzard at DQ on the way out of town.
photos
Google Earth geolocated photos
0 TrackBacks
Listed below are links to blogs that reference this entry: Real Ale Ride.
TrackBack URL for this entry: http://www.cureforpain.org/cgi-bin/mt/mt-tb.cgi/14